Ok, I am drawn to them already because of their name...Isaac -when we have a child and if that child is a boy will be his name. Boy oh boy if you ever get the chance to hear them sing - don't miss it. Such a blessing, such beautiful singing, such heart touching testimonies...one of those foot tappin', shout amen-ing, praise the Lord and pass the tissues kind of concert.
They are a blue grass gospel group. They are a family. The mother, son and two daughters sum up the vocals. They have 3 others that play other instruments but the vocals are perfect. So many songs they sung touched my heart, made me cry and just kept me singing.
This song is one that I heard a while back but can't listen to it because it makes me do that ugly cry thing.
It is called Yours and Mine. The daughters and the mother sing it to each other. It makes me remember a conversation with my mom. She cried telling me how she wishes she could have a child for me, could take away the pain of being empty. She is so amazing to me, I don't know what I would do without her. She is my hero.
Anyways, here are the lyrics and the daughters sing first and the mother sings what is in parentheses. I love having a mother that shares my pain and my joy.

I hope I didn't wake you (It's never too late)
My heart is so broken (Honey, It'll be OK)
I wish you were here now (I wish I was too)
Don't know what I'd do without you

(chorus)
If I could take the hurt all away
I'd gladly walk in your shoes
I'd rather it be happening to me than you
I'd love to turn your tears into laughter
And all of your rain to sunshine
But since I can't take it
Let's make it yours and mine

I heard from the doctor (I heard the bad news)
Oh I am so frightened (I've been praying for you)
I don't understand it (Sometimes life isn't fair)
Seems like more than I can bear

(chorus)

I'll laugh with you, cry with you
You know I would die for you
Together we can make it through

(chorus)

Since I can't take it
Let's make it yours and mine.
They were just great. Here are is a picture from that night and a small sorta video. I wish I had gotten all of It is well, whew.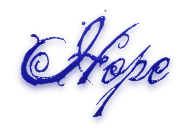 edited to add...yes, the man's red shirt says 'Granny's Kitchen'...